We are about 1 month into the new year. Lots of us are being put to the test on our New Year's Resolutions. Maybe some of you have committed to learning a new skill. Last week, I read an article in Horse & Rider magazine titled "Be A Good Beginner." It it, it listed 5 attributes of what it takes to be a good beginner. 1)Be a Learner 2) Ask For Help 3) Be Goal Oriented 4) Be Willing to Work 5) Know When to have fun. Using this as a framework can be very helpful in doing all the things it takes to be successful at learning a new skill. We are never too old to learn something new. We just have to be patient and humble. Sign up for my newsletter at https://www.subscribepage.com/agstateofmindmorningroutine
A very exciting episode today friends. I had the pleasure of sitting down and chatting with fellow podcaster Emily Reuschel. Emily is a full-time entrepreneur, passionately serving rural women through life coaching, speaking, masterminds, retreats, digital content, and my Podcast: Gather in Growth. We chat today about her journey from non ag girl to a woman fully immersed in the world of agriculture. We then talk about our personal development journeys and what directions they have taken us. We chat about how doing things in a different and niche way can be a special kind of challenge when running rural businesses. We finish up by talking about Emily's favorite personal development resources. Books listed are The Road Back to You, Atomic Habits by James Clear, Finish: Give Yourself the Gift of Done and Quitter by Jon Acuff. Find Emily online at https://emilyreuschel.com/
It's the new year so that means it's time for goals and resolutions. I know that so many people are talking about this right now and even more have their own opinions on it. Personally, I like New Year's Resolutions and love to try and keep myself accountable to a goal. I talk today about SMART goals and how to utilize them in achieving your goals. I also talk about a concept called Habit Stacking I learned from reading James Clear's Atomic Habits. I start off the podcast by talking about all the great guests we have lined up for the new year. Thanks for all of your support for the Ag State of Mind Podcast!
Happy New Year!! Today Keri and I record another podcast together talking about balance. There are a lot of self help gurus who tell you that there is no way to achieve balance. That balance is something that is a myth and if you are balancing then something isn't getting the proper attention. We push back on that notion a little because we can balance the most important things to us. We just have to be very intentional and mindful of what we are trying to do. We talk about that today and talk about how we get all the things we do done. About how having a core value list helps us make decisions on what we spend our time and money on. We close out the podcast talking about what 2023 has in store for Keri and our yoga business. Apologies for the poor audio quality on this episode. I recorded on the wrong mic and it shows. If anything, it shows me how important the investment of a good microphone is to a podcasting business! Find Keri on Instagram @kerimedows
Several years ago we had a guy that my dad was dealing with to ride some horses in exchange to buy some colts. My dad was trying to make a deal with him when the guy said that he wasn't sure he wanted to be taking on that kind of work because he was getting ready to turn 40. My dad instantly replied to him, "What I wouldn't give to be 40 years old again." This has stuck with me. Now that I'm nearing age 40, I see dad was right. I know that 40 is not old and that people so often use age as an excuse to abstain from things that scare them. I talk a bit about that here today. Go to www.patreon.com/agstateofmind to support us!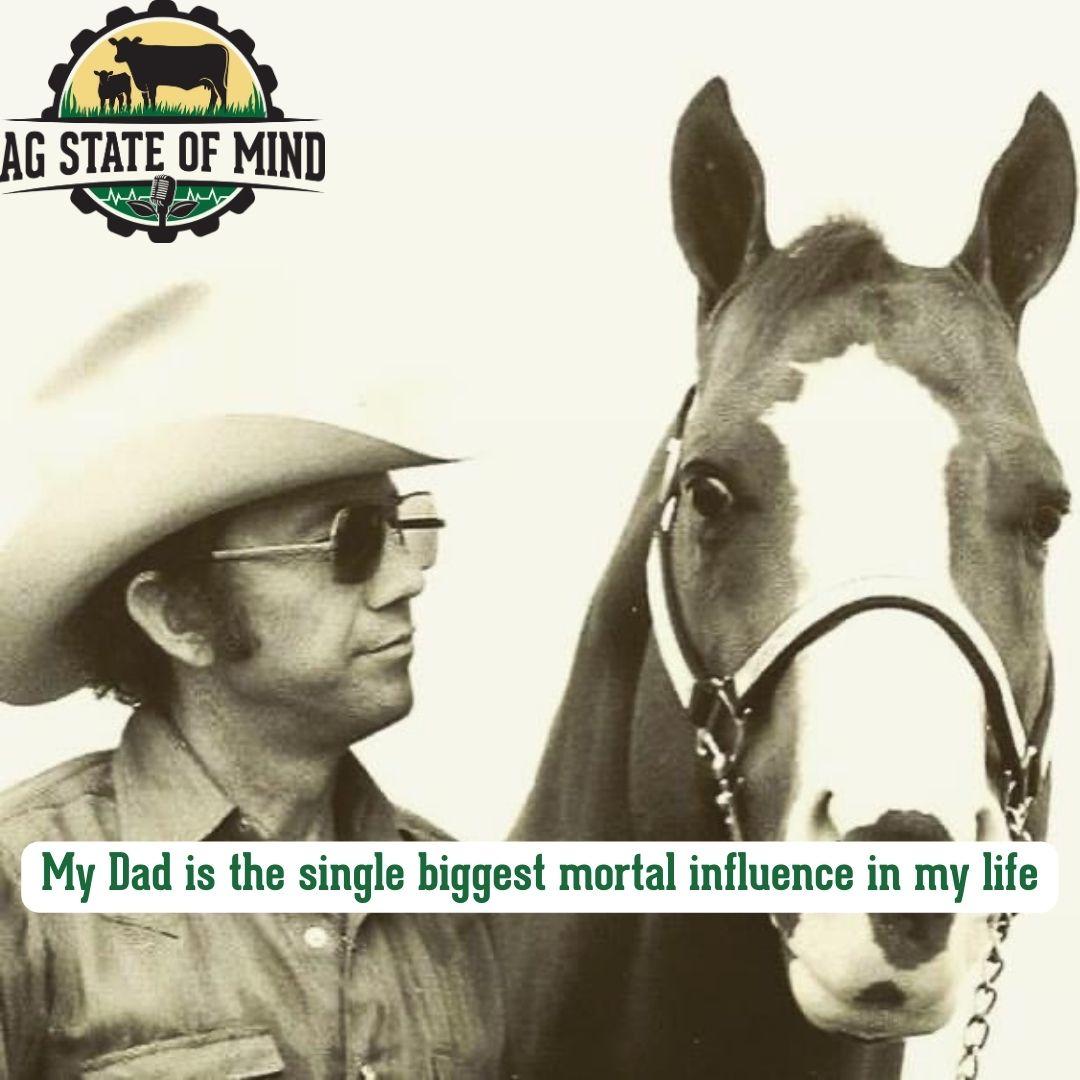 I remember when I was buying my first car, my dad offered the advice of "the excitement won't outlast the payments." I've carried that advice into my 15 or so years of true adulthood when making financial decisions that affect myself and my family in the long term. It has helped me be much more intentional with how and why I spend my money. Check us out on Patreon at www.patreon.com/agstateofmind
A little while back, I was listening to the John C Maxwell Podcast. On there, he had a 4 part series talking about lessons learned from his dad. I thought that was so cool. So now, I have decided to do the same. My dad is on the sunset years of his life and I wanted to put this out there. Today, I want to talk about how my dad and mom have had a successful marriage of almost 66 years. How a coffee shop conversation with my dad had one of the most profound effects on how I viewed what a successful marriage looks like.
City Slickers was a big movie for me growing up. My dad loved it, my brothers loved, I loved it. We quoted it all the time. Just the other day, I saw that it was on Netflix and watched it again. That movie hits just a little bit different when you're a dad with kids than before. I talk today about how it hit me and how the parallels with myself and the main character allowed me to reflect on the goings on in my life. Brought to you by mystiklubes.com
In 2018 I met Burke Teichert who is one of my personal heroes in the ranching industry. From that moment forward I began to think differently about ranching. I began to look at it from a more holistic point of view. This has led me to change many things within our business. Today, I talk about the why behind these changes. That why is better overall health for me and my family. We get into the practices that I have changed and how getting more in sync with nature has made for better health. Brought to you by Mystik Lubricants. For a look at their full range of top-quality products, visit mystiklubes.com
I used to get super annoyed when podcasts would re release old episodes. That was before I was a podcaster. I know realize there is value in circling back to revisit old episodes. Dr Temple Grandin has one of the most special and brightest minds that has lent itself to the ranching industry. Through her groundbreaking work and research, she has revolutionized cattle handling. In a talk with a friend, I realize that this recording would be valuable to revisit due to the fact of our in depth discussion into the food supply chain. Enjoy this week's Thanksgiving episode with the great Dr. Temple Grandin. Brought to you by Mystik Lubricants. For a look at their full range of top-quality products, visit mystiklubes.com