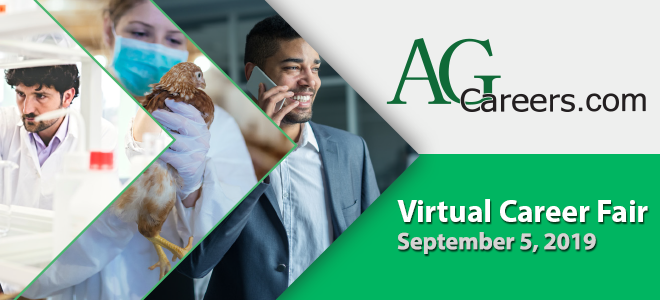 AgCareers.com is offering a unique way for job seekers and employers to connect without having to stand in line or travel! The Careers in Agriculture Virtual Career Fair scheduled for September 5 is an efficient way to make connections from anywhere in North America. Virtual career fairs utilize chat rooms in lieu of the traditional career fair booth allowing for multiple conversations during the event.

The advantages of a virtual career fair are relevant for both job seekers and employers.

Job Seekers
The fair is free to attend and gives you the chance to connect with multiple organizations all while sitting at a computer. When registering for the fair you'll be asked to upload a resume. This resume is available to participating employers before, during and even after the fair. Several employers will take the time to view resumes so they can make direct contact with quality candidates, so be sure to include your pertinent contact information.

You can initiate conversations with employers within a group as well as one-on-one. This allows you to ask about open positions, company culture, location of jobs and other questions you may have. Just because the fair is online, doesn't mean you don't have homework to do! You'll be able to see the list of employers participating in the fair so prior to initiating a conversation take the time to view their website and familiarize yourself with the organization.

A common pitfall for job seekers attending a virtual career fair is that they tend to forget the need for professionalism. Just because you can interact with employers from your couch wearing your favorite t-shirt doesn't mean that you should. Steer clear of using emojis and casual vernacular like LOL. Set up a professional space, free of distractions and clutter.

Lastly, collect the contact information of representatives that you interact with so that you can follow-up with a thank you.

Employers
This particular fair has been our most successful in the past, with over 600 job seekers registering for last year's event. Virtual career fairs allow you to tap into a candidate pool that is well prepared for careers in the industry while creating awareness of your organization. You can view resumes of registrants before and after the event to ensure you connect with talent that fits your needs.

Virtual fairs eliminate travel costs and save time. You designate the times between 11 a.m. and 3 p.m. Eastern that you will be available to chat with job seekers. Staffing can be done by multiple representatives allowing for involvement of subject matter experts, multiple industry segments and more. Additionally, organizations will be able to interact in group and one-on-one chat rooms and can even conduct video interviews.

Job seekers and employers can register here to participate in the September 6 Careers in Agriculture fair!

Check out career opportunities at www.AgCareers.com.