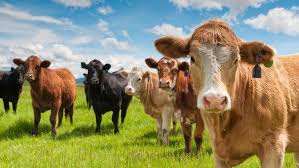 More news coming out of Brazil; the EU has now raised "serious concerns" about the safety of meat exported from Brazil. After a May audit, health concerns were heightened and a leaked letter obtained by Bloomberg on June 7 showed additional comments. The letter was from the EU Health Commissioner addressed to Blairo Maggi, Brazil's Ag minister.
With an overabundant supply of US milk, another dairy processor has announced that it will be dropping 11 dairies. Galliker's Dairy Co., based in Johnstown, Pennsylvania, said they can no longer process milk from all of the 85 dairies it currently receives milk from.
China's largest animal vaccine office will be opening in 2018 in what is known as the Kansas City Animal Health Corridor. The corridor is a stretch of territory from Manhattan, Kansas to Columbia, Missouri. Currently, 56% of all animal health, nutrition, and pet food companies are located in this stretch. The Chinese company, Jinyu Bio-technology Co. Ltd. will be located at the start of the corridor in Manhattan, Kansas.


Exciting news for US Beef producers and processors; as of Wednesday June 14, the first shipment of US Beef has been sent to China. The boxed beef products were sent from Greater Omaha Packaging in Omaha, Nebraska which currently exports beef to 69 countries.
The US Dollar found some strength today after the Federal Reserve decided to raise interest rates .25% on Wednesday. The trade is starting to discount future increases this year, however, as inflation worries decline. One of the key drivers of inflation for consumers is the price of energy, and oil prices continue to drop as more production comes online here in the United States, according to this report from Reuters.